Assumption of the BVM Parish and St. Anthony's Mission Church
Welcome to the Assumption of the BVM Parish and St. Anthony's Mission Church Website
Our new website is easy to use and is compatible with new devices like smart phones and tablets.
Our "Home" page provides a quick overview of what's happening in our Parish without requiring you to "dig" for our most current information.
Our Mass Schedule for the upcoming 7 days is now available on every page of our website.
Parish events have been organized into our new Events Calendar.
You will also find information about our Faith in our new Ministries, Education, and Sacraments sections.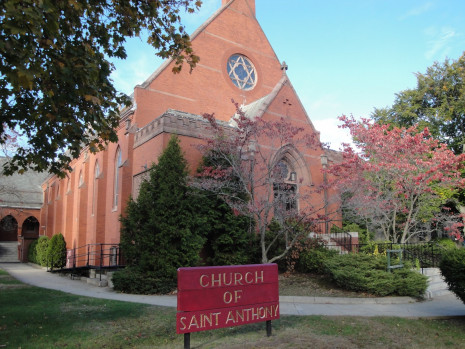 Parish History
The newly revised "Diary of a Parish: Church of the Assumption. Providence, RI 1870-2021" is now available to download and print.
Remember, the parish history is a work in progress. We are always looking for new material. If you have any information, memorabilia or photos that might be helpful please contact:
Paul Tognetti​
Phone: 401-461-7718
Email: mptog@protonmail.com
Coping with COVID-19 in Our Parish
On March 11, 2020 the World Health Organization (WHO) declares the worldwide outbreak of Coronavirus to be a pandemic. Just two days later President Donald Trump declares the pandemic a national emergency. On Saturday afternoon, March 14, 2020 Father Gildardo offers the regular 4:00 P.M. English Mass at Saint Anthony's Church. At that point he had every intention of offering all of the Masses the following day. But several hours later Father Gildardo makes the difficult decision to cancel all of the Sunday Masses at Assumption and Saint Anthony's. On Monday, March 16 Bishop Thomas Tobin, at the request of public officials and upon the recommendation of health experts, issues a directive suspending all Masses and other liturgical services until further notice in the Diocese of Providence. All of a sudden Holy Mass and the Sacraments were no longer available to the faithful. We were entering a period of lockdowns, face masks and social distancing. The parish would be forced to turn to technology to make the Mass available to parishioners. It was a very unsettling time. Our pastoral assistant, Sister Angela Daniels, C.P. who had worked at the Assumption for more than 51 years was forced to the sidelines due to the pandemic and was never able to return. The enormity of her contributions to our parish over the decades could never be overstated.
On Sunday, March 29, 2020 the 9:00 A.M. Sunday Mass in English and the 12:00 Mass in Spanish are streamed on the Assumption/Saint Anthony's Facebook page. The page had been created in November 2017 by long-time Assumption parishioner Paul Tognetti. Assumption/Saint Anthony's was one of about a dozen parishes around the Diocese of Providence prepared to offer this service at this time. The Masses emanated from the newly renovated Assumption Rectory chapel. Over the next several weeks the idea would be embraced by more and more parishes. By the end of May more than 40 parishes were offering online Masses.
On the weekend of May 30-31, 2020 (Feast of Pentecost) Governor Gina Raimondo allows churches around the state to reopen as part of phase 2 of "Reopening Rhode Island". Meanwhile, Bishop Thomas Tobin issues a set of 10 rules designed to ensure the safety of all parishioners. At this time only 25% of capacity will be allowed in a church at any one time. Face masks must be worn by all who attend Mass. Social distancing must be maintained, there are no hymnals and Holy Communion will be distributed in a safe manner. There will be no "sign of peace" and those who are sick are advised to stay home. As of this date, a total of 711 people had died of Coronavirus (now known as COVID-19) in Rhode Island while nearly 15000 people had tested positive for the virus. The Latino community was particularly hard hit by the pandemic. According to Dr. Nicole Alexander-Scott, Director of the Rhode Island Department of Health: "Our preliminary numbers indicate that roughly 45% of our COVID-19 cases in Rhode Island are among Latinos. That means they are significantly overrepresented in our group of people who have rested positive". At the 4:00 P.M. at Saint Anthony's approximately 25 people were in attendance. Later that evening, a Mass was held in Assumption Church on the final night of a Novena to the Holy Spirit. Close to 90 people attended. While the Masses steamed on Facebook certainly filled a void, everyone agreed that it wonderful to be back in church. As spring turned into summer more and more restrictions were relaxed and churches were allowed to return to full capacity by the Fourth of July. Still, many parishioners were reluctant to return to church. In order to ease concerns about large crowds Father Gil added a 6:30 P.M. Spanish Mass on Saturday evenings at Assumption and made the 4:00 P.M. Mass at Saint Anthony's bilingual.
It has now been about 21 months since the onset of COVID-19. Father Gildardo reports that about 75% of parishioners have returned to church. It is also heartening to report that contributions have not decreased in any significant way. The ability to make donations online was added to the parish website in April 2020 and many parishioners have taken advantage of that option. In the meantime, many other aspects of parish life have gradually returned to normal. The Sacrament of Baptism is being offered on a regular basis once again and 19 young men and women from the parish received the Sacrament of Confirmation on Saturday, October 24, 2020. About a dozen youngsters made their First Holy Communion at Saint Anthony's earlier this year. The food programs at both Assumption and Saint Anthony's continued to distribute food to the poor and needy on an "emergency" basis during the early days of the pandemic and have now resumed their regular schedules. We continue to receive food from the parishioners of our "sister" parish Christ the King in Kingston, Immaculate Conception Parish in Cranston and Our Lady of Loretto Parish in East Providence. We are grateful to the parishioners of all of those parishes for their support.
Finally, the year 2020 marked the 150th anniversary of Assumption parish. An enthusiastic group of about 15 parishioners had been hard at work planning a series of events to celebrate the occasion including a parish picnic in July, a dinner-dance at Rhodes-on-the-Pawtuxet in September as well as a 150th Anniversary Mass to be celebrated by Bishop Thomas Tobin in October. Sadly, all of these events had to be cancelled. Still, the people of Assumption/Saint Anthony's have much to be thankful for. Only one parishioner has succumbed to COVID-19 thus far and that individual contracted the disease in Florida in the early stages of the pandemic. We count our blessings and trust that gradually our lives will return to normal.