Assumption of the BVM Parish and St. Anthony's Mission Church
Welcome to the Assumption of the BVM Parish and St. Anthony's Mission Church Website
Our new website is easy to use and is compatible with new devices like smart phones and tablets.
Our "Home" page provides a quick overview of what's happening in our Parish without requiring you to "dig" for our most current information.
Our Mass Schedule for the upcoming 7 days is now available on every page of our website.
Parish events have been organized into our new Events Calendar.
You will also find information about our Faith in our new Ministries, Education, and Sacraments sections.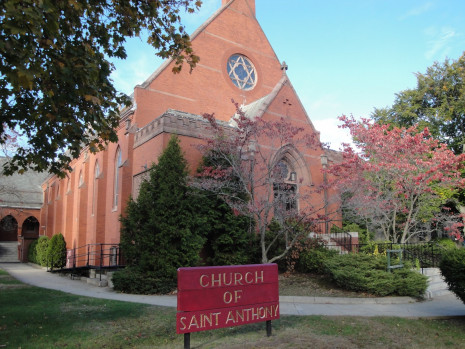 Guidelines for Attending Mass
We are pleased to announce that both Assumption and Saint Anthony's are once again open and offering the full schedule of Masses. For the time being we have added a Spanish Mass at 6:30 P.M. on Saturday evenings. Please be aware of the following rules issued by Bishop Tobin regarding the re-opening of our churches:

1. For the time being, Catholics will continue to be dispensed from attending Sunday Mass.
2. Access to Mass will be limited. Only 25% capacity will be allowed.
3. Everyone must wear a mask.
4. Pews will be sectioned off
5. Singing will be limited. For the time being there will be no hymnals.
6. Parishioners will receive Holy Communion in a safe manner.
7. The church will be sanitized after every Mass.
8. Budget envelopes will be submitted prior to Mass or as you leave.
9. Avoid personal contact with anyone. There will be no "sign of peace".
10. Those who are sick must stay home.
Parish History
The newly revised "Diary of a Parish: Church of the Assumption. Providence, RI 1870-2019" is now available to download and print.
Remember, the parish history is a work in progress. We are always looking for new material. If you have any information, memorabilia or photos that might be helpful please contact:
Paul Tognetti​
Phone: 401-461-7718
Email: mptog@protonmail.com