Assumption of the BVM Parish and St. Anthony's Mission Church
Welcome To The Assumption of the BVM Parish and St. Anthony's Mission Church Website.
Our new website is easy to use and is compatible with new devices like smart phones and tablets.
Our "Home" page provides a quick overview of what's happening in our Parish without requiring you to "dig" for our most current information.
Our Mass Schedule for the upcoming 7 days is now available on every page of our website.
Parish events have been organized into our new Events Calendar.
You will also find information about our Faith in our new Ministries, Education, and Sacraments sections.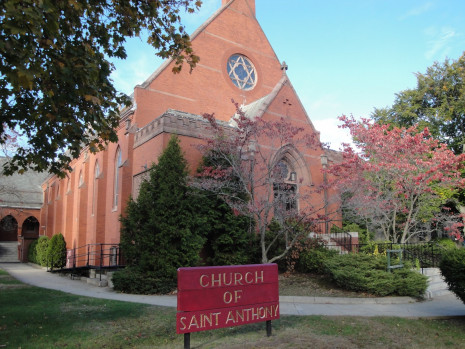 Mass Schedule
Bilingual
English
| | |
| --- | --- |
| Wed | No Mass |
| Thu | No Mass |
| Fri | No Mass |
| Sat | No Mass |
| Sun | 9:00am |
| Mon | No Mass |
| Tue | No Mass |
Spanish
All Services
Parish Bulletin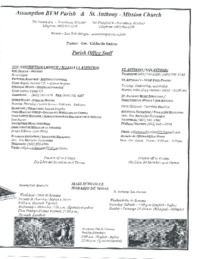 Mar 14, 2020
Weekend of March 14-15, 2020
Assumption Parish 150th Anniversary Celebration
Schedule of Events
Sunday, April 26th: Bilingual Kick-Off Mass at Assumption Church 11:00 A.M.
Saturday, July 25th: Parish Picnic at Mother of Hope Camp, Chepachet, RI 10:00 A.M. TO 4:00 P.M.
Sunday, September 20th:
Bilingual Mass: 9:30 A.M. Assumption Church
Dinner-Dance at Rhodes-on-the-Pawtuxet, Cranston, RI 2:00 P.M.--7:00 P.M. For information or tickets call Paul Tognetti at 461-7718.
Sunday, October 4th: 150th Anniversary Mass w/ Bishop Thomas Tobin (Bilingual) 11:00 P.M. A reception will follow in the Joe White Parish Center.
Assumption Parish History
The newly revised (June 2019) "Diary of a Parish: Church of the Assumption. Providence, RI 1870-2019" is now available. Just click on "Our Parish" at the top of this page and then select "Parish History". This 57 page Assumption Parish History is downloadable and printable. Remember, the parish history is a work in progress. We are always looking for new material. If you have any information, memorabilia or photos that might be helpful please contact Paul Tognetti at 401-461-7718 or by e-mail at pmtognetti@protonmail.com
Mass Intentions
The 2020 Calendar for Mass Intentions at Assumption and Saint Anthony's is now open. To book a mass commemorating:
--Anniversary Mass
--Birthday Memorial Mass
--Memorial Mass
--Mass for a living intention
Please call the rectory during regular business hours (M-Th 9:30 A.M. -- 2:00 P.M.) at 941-1248.
Visit Our Facebook Page
The Assumption/Saint Anthony's Facebook page is a unique blend of prayers, reflections, news and information, memories and "live" events. Check us out by clicking on the icon at the bottom of the page.
2020 Catholic Charity Fund
The annual Catholic Fund Appeal for the Diocese of Providence is now in progress. The goal that has been set for Assumption Parish this year is $11000 while the goal for Saint Anthony's is $7400. As Catholics, we are called to provide for the needs of our neighbors and for the entire Catholic family, especially in union with our Bishop. One of the many ways in which we can fulfill our responsibilities is through our generous response to this Appeal in order to support the many works of the Church. Bishop Tobin asks each one of us to make a generous response so that we might build up the Church in order to bring hope and love to thousands of men, women, and children. This year's In-Pew Pledge Weekend is scheduled for March 21-22. Please be as generous as your means will allow. Thank you!